Film Shasta – Vision Come to Life
Shasta County, California
Introduction to Shasta County
Film Shasta is a fantastic resource for producers and location managers who are looking for outstanding footage of the great outdoors. With an abundance of natural resources such as mountains, meadows, rivers and lakes, Shasta County offers over 300 days of sunshine a year. Film Shasta is at your service, offering a diverse location library, permit information, local production support services, on-site monitoring and the latest information about state and local incentives for filmmakers.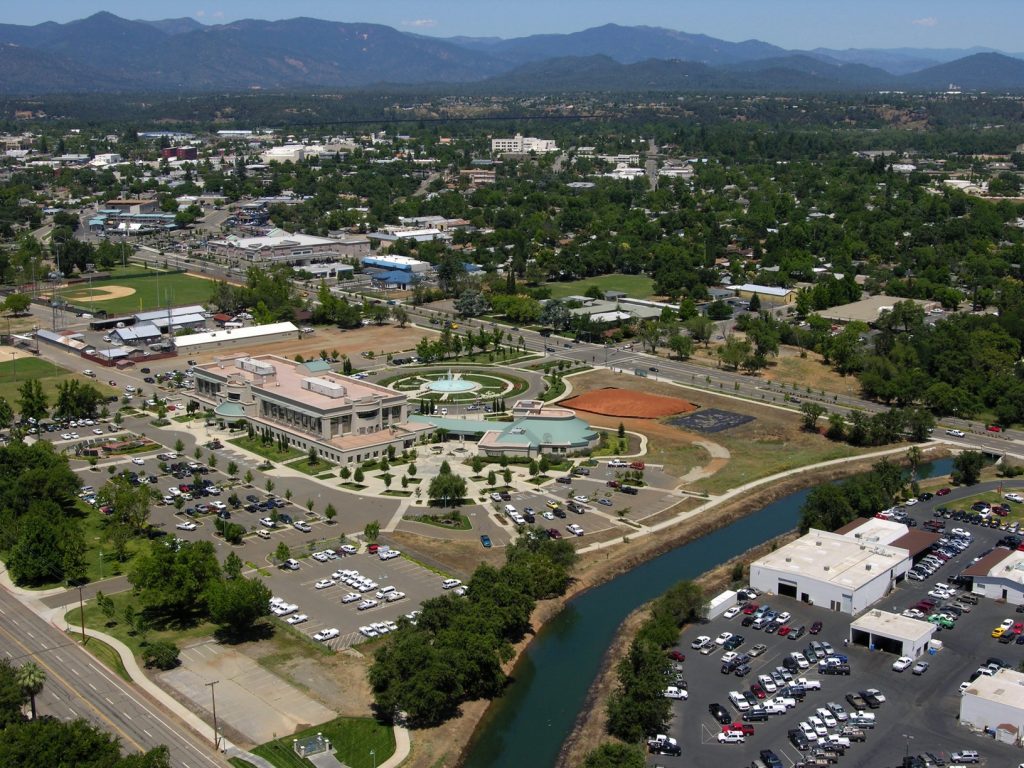 About Film Shasta
Film Shasta is here to help with your production needs! You can count on us for assistance in locations, permits, local incentives and resources, and all our services are offered at no charge.
Film Shasta is recognized by the County of Shasta and the California Film Commission as the official advocate for filming in Shasta County, California. We are also a member of the organization FLICS (Film Liaisons in California Statewide) and the Association for Film Commissioners International (AFCI).
General Info for Shasta County
Weather in Shasta County
| | | | | | | | | | | | | |
| --- | --- | --- | --- | --- | --- | --- | --- | --- | --- | --- | --- | --- |
|   | Jan | Feb | Mar | Apr | May | Jun | Jul | Aug | Sep | Oct | Nov | Dec |
| Average high in ºF | 53 | 57 | 62 | 69 | 78 | 87 | 95 | 94 | 88 | 76 | 60 | 53 |
| Average low in ºF | 40 | 41 | 44 | 47 | 55 | 62 | 68 | 67 | 62 | 54 | 45 | 40 |
| Av. precipitation in inch | 10.84 | 11.33 | 9.48 | 4.75 | 3.23 | 1.37 | 0.2 | 0.25 | 1 | 3.68 | 7.63 | 12.06 |
Average Daylight Hours in Shasta County
| | | | | | | | | | | | | |
| --- | --- | --- | --- | --- | --- | --- | --- | --- | --- | --- | --- | --- |
|   | Jan | Feb | Mar | Apr | May | Jun | Jul | Aug | Sep | Oct | Nov | Dec |
| Daylight Hours | 9.6 | 10.7 | 12 | 13.4 | 14.5 | 15.1 | 14.8 | 13.8 | 12.5 | 11.1 | 909 | 9.2 |
Permitting Agencies
There are 11 permitting offices in Shasta County. Film Shasta is your liaison to help navigate, monitor and offset permit fees. Here are the agencies and their timelines for processing permits:
Bureau of Land Management – 30+ days
Bureau of Reclamation – 14+ days
Cal Trans – 3+ days
California State Parks – 3+ days
City of Anderson – 14+ days
City of Redding – 5+ days
Department of Fish & Wildlife – 30+ days National Park Service – 30+ days
Shasta County Public Works – 5+ days
United States Forest Service – 14+ days Whiskeytown National Recreation Area – 14+ days
First Aid & Medical Services
Mercy Medical Center
2175 Rosaline Ave.
530-246-9000
Open 24 hours
Shasta Regional Medical Center
1100 Butte St.
530-244-5400
Open 24 hours
American Medical Response
4451 Caterpillar Rd. Suite 1
530-246-9111
Ambulance on call
A Few Filming Locations in Shasta County 
Lassen Volcanic National Park
Lassen Volcanic National Park
Category: Natural Landscapes & Parks
The park offers an incredible amount of locations within its borders. Features include waterfalls, meadows, heavily forested areas, fire-scarred locations, campgrounds, lakes, trails, windy roads, spectacular views and more. The park was recently featured in a Nature Valley commercial, which won park ranger Michelle D'Ulisse and location manager Weston Marsh California On Location Awards for their efforts.
King's Creek Meadow – Approved filming location non-wilderness area
Lake Helen – Approved filming location and non-wilderness area
Painted Dunes – Filming can take place only up to the wilderness boundary portion of the Butte Lake Area which starts about a half mile before reaching the Cinder Cone on the Cinder Cone trail. The lava flows can be seen around the lake right from the Butte Lake Day Use Parking Area.
Kings Creek Falls and Mill Creek Falls both have trails approved for filming as they are in non-wilderness areas. However, once you get to the falls the wilderness boundary begins and both falls are pretty inaccessible due to rough terrain and no trail access to be able to get up close to them.
Filming generally can take place in all non-wilderness areas of the park. Special consideration is taken for requests of closed areas. A minimum of 14 days is needed to process a filming permit application. News coverage does not require a permit for either filming or still photography but is subject to time place and manner restrictions if warranted to maintain order and ensure the safety of the public and the media and protect natural and cultural resources.
Sundial Bridge
Category: Water/Coastal Areas
Designed by Santiago Calatrava, the Sundial Bridge is an architectural marvel. The glass-decked, cable-stayed cantilever suspension bridge reaches 217 feet into the sky, spans 710 feet across the Sacramento River and is one of the world's largest working sundials. This has been a popular spot for commercial projects and b-roll. Companies including Nautica, GMC and most recently Prudential filmed at this location.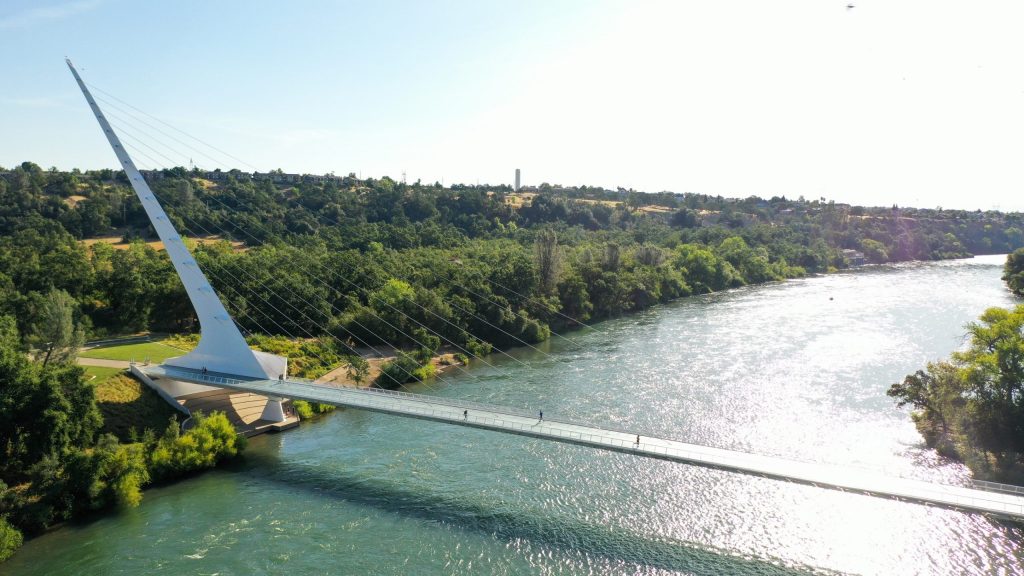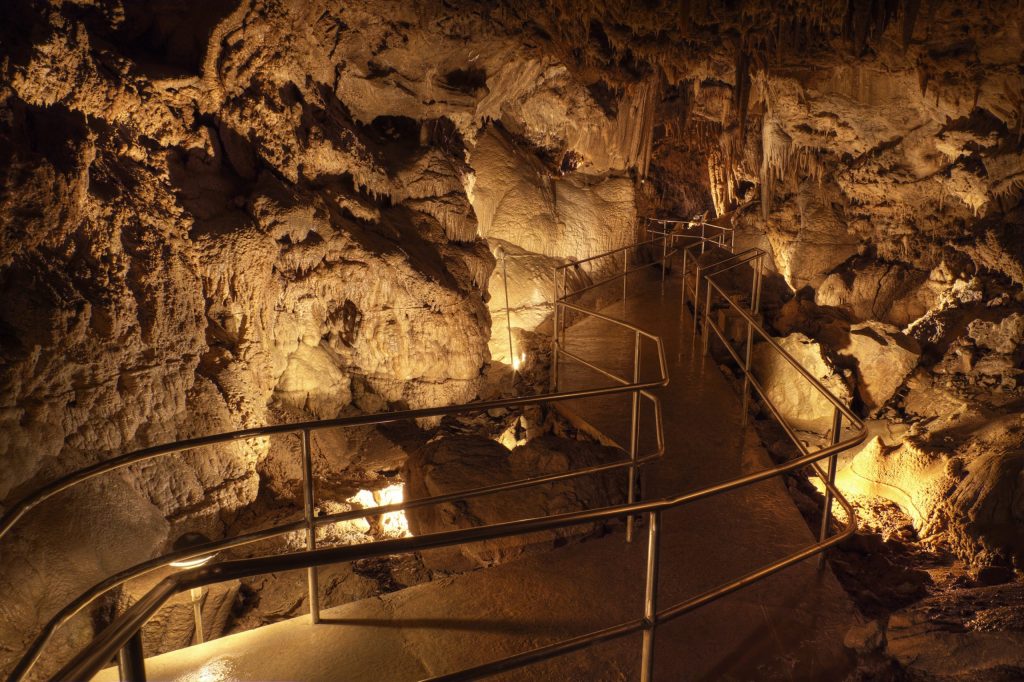 Lake Shasta Caverns
Category: Natural Landscapes & Parks
This location is a National Natural Landmark and provides many options including Shasta Lake access, catamarans, buses, an old military LCM-6 vessel and multi-room caverns available for filmmaking. This has been a popular location for indie filmmakers and b-roll for commercials.
Shasta Dam
Category: Water/Coastal Areas
Shasta Dam is a curved gravity dam across the Sacramento River at Lake Shasta and provides beautiful shots of the lake and Mt. Shasta. The dam generates hydroelectric power and forms the largest reservoir in California. It served an important role in World War II providing electricity to California factories, and still plays a vital part in the management of state water resources today.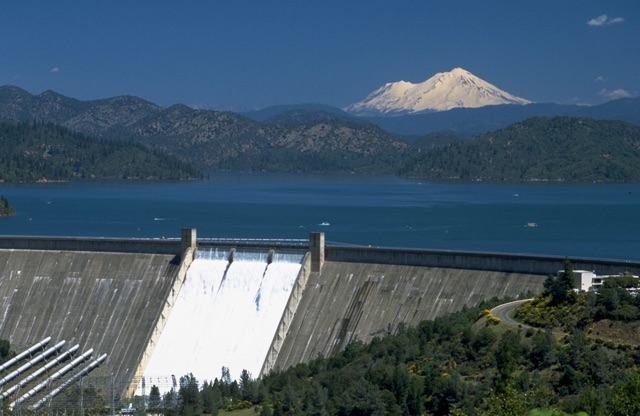 Shasta County is dedicated to serving the film industry and has a local incentive that was launched in 2018. For qualifying productions, they offer a hotel room/per night rebate, permit fee rebate and a 5% direct spend rebate.
Qualifying productions can receive up to $50,000 through our local incentive program. The Local Incentive program is aimed at retaining and increasing feature and television production in Shasta County by subsidizing permit fees, offering hotel rebates and direct spend incentives.
To learn more about Shasta County Film Incentive Program, contact the Film Office at (530) 225-4103.
Visit the California Film Commission's website to learn more about the California Film & Television Tax Credit Program.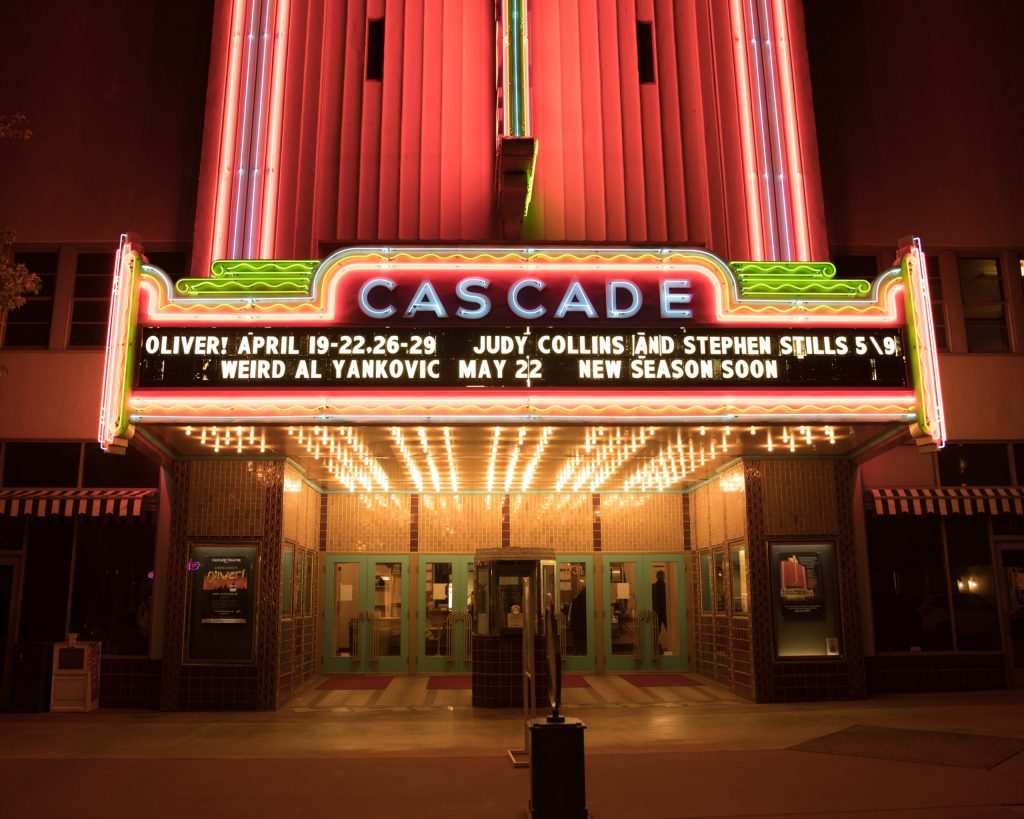 Film Credits for Shasta County
Sabina is the gold standard for film commissioners, and she made a tremendous difference throughout the process. We scouted many areas, including other national parks in California and ended up choosing Lassen Volcanic National Park and the Shasta area because of the beautiful scenery, the variety of locations available in such close proximity, and also because of Sabrina's guiding influence and assurance that these locations would be available to us.
Shasta County has the best collection of film locations. Ancient forests, waterfalls, lakes, volcanoes and they're all centered around a great town with all of the resources any production would need. The Shasta Film Commissioner's office has been a great help to me over the years. I've directed over a dozen commercially released movies in Shasta County.
Of all the cities I've filmed in, Redding has been one of the quickest to jump to our assistance for anything needing to be done to make our production a success. This, on top of locations that provide scenic mountains and lakes, small downtowns, city, hospitals, and more makes it an ideal location to film.
Film Credits
"It's A Miracle" TV Show Lassen Park
At The Chalet
1969 (Feature Film/Sequence)
ABC's Great Christmas Light Fight
Action Man Toy Comm.
Alien Showdown: the Day the Old
West Stood Still
Almost Heroes (Feature Film)
America's Most Wanted (TV Episode)
Bayliner Boats Commercial
Black & Decker Tool Comm.
Bridges Of The World (NTV)
CA Dream Eater
CA. Dreamin' Documentary
Chevrolet Blazer
Chevrolet Trucks
Climb An Angry Mountain
CNBC Blue Collar Millionaires
CNN's The Hunt with John Walsh
Discovery Channel "Snow Blizzard"
Disney's Planes
Extreme Adventures TV
Extreme World Records
Firefox (Clint Eastwood Feature Film)
Forced Agenda (Feature Film)
Ford
Free Gold (Independent Feature Film)
Global TV Whiskeytown Cemetery
Great Western Savings Comm.
Hartford Ins. Comm.
Hell Is For Heroes (Feature Film)
Homestead Rescue
Honda Commercial (For Japan)
I'm Having Their Baby
Impact TV with Martin Sheen
Infinity Car Commercial
Jeep Ad (Big Pictures Inc./Ponta Castle Ingram Agency)
Jeep Catalog Shoot
Jeep Commercial
Latta (German Margarine)
Lexus Brochure Shoot (Froomer Pictures)
Lost Gold
Lost in Light
Marlboro Commercial
Mercy Medical Center Commercial
Merle Haggard Music Video
Methods of Take NBC Sports
MTV: Real World
My Classic Car
Nature Valley
National Geographic TV
National Health Plans Comm.
Nissan Car Commercial
Nissan Car Commercial
Burney Falls (June)
Orvis Fashion Shoot
PG&E
Pet Stories Documentary
Playing with Dolls
Playing with Dolls II
Prey for Death
Rescue 911 Television
Rodeo Girls A&E TV Show
Saab Car Comm.
Sleeping Beauty
Stagg Apple Cider Commercial
Stand By Me (Feature Film/Sequence)
Stelara Pharmaceutical commercial
Subaru Car Comm.
Tarsen-Red Car Commercial Daiwu
Car Commercial @ Shasta Dam (European Car)
Tecate Beer Commercial
The Burning Dead
The Dead and the Damned III
The Dead the Damned and the
Darkness (The Dead and the
Damned Part II)
The Hunting
The Snow Queen
The Travel Guys
TNN High Adrenaline Jobs
Top Gear
Toyota Commercial
Unsolved Mysteries (TV Episode) Lost Loves (Shasta Lake City)
Unsolved Mysteries TV
Vodka Commercial
Water Commercial
Wheelabrator Alliance
Willow (Feature Film/Sequence)
Wisconsin Electric Commercial
What Are You Waiting For?
Let Destination Film Guide Connect You!
[optin-monster slug="tscrdmwg3kbheoojhkbg"]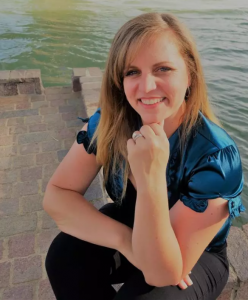 Sabrina Jurisich
Shasta County Film Commissioner
Phone: 530-710-7784
Email: sabrina@visitredding.com