From wrestling tournaments to football dramas, these arenas and stadiums can accommodate productions of many sizes and can reward your team with generous tax incentives.
These six locations will help bring your sports project to the big screen. Whether your focus is a small town underdog team or a professional athlete's journey to victory, there is a place for your scenes to be produced. Many of the six locations have surrounding sports facilities, academic buildings, campuses and nearby downtowns that could be incorporated into your project without traveling far to get those shots. All locations are in states that offer tax incentive programs that could help get your sports project up and running.
Dignity Health Sports Park (Carson, CA)
The Dignity Health Sports Park in Carson, California is a large multi-use facility on the California State University campus. The complex has been used for tennis tournaments, collegiate and professional football games, soccer matches, entertainment purposes and more. The large-scale arena allows for professional sports-related filming to become a reality and can be useful in filming many different types of sports movies and projects. Other sports facilities can be found near the complex, including a golf course a few blocks away. The Dignity Health Sports Park can be seen in scenes from the film, which was released in 2017. California's tax credit offers qualified feature films with a one million dollar minimum budget 20% on expenditures and 20% on expenditures for TV shows with a one million dollar budget per 40-minute episode. The versatility of this location is great for films involving more than one sport or for a much larger scale competition that's involved in your storyline.
Bobcat Stadium (San Marcos, TX)
Bobcat Stadium, home to the Texas State University football team in San Marcos, Texas is a great location for a film centered around a small town college or high school football team. With Texas State University just across the river, you have the option to create more of your film in one area, all while getting the charm and small town feel of San Marcos. There are a handful of stadiums in the area that could make a home to many scenes throughout your project without traveling city-to-city. The stadium has seen the big screen before in an episode on Friday-Night-Lights and in the film, The-Ringer. The Texas Moving Image Industry Incentive Program offers a 5% tax incentive to in-state production expenditures between $250,000 to one million dollars, a 10% tax incentive between one million dollars to $3.5 million and a 20% incentive for $3.5 million and up. To be qualified for tax incentives, 70% of paid crew and cast members have to be Texas residents, along with 60% of production days completed in Texas. The Bobcat Stadium is the classic small town stadium that can give you everything you're looking for when the high school football team defeats the odds and wins the game. 60% of production days completed in Texas.
Owensboro Sports Center (Owensboro, KY)
The Owensboro Sports Center, home to Kentucky Wesleyan College and the Owensboro Catholic High School basketball teams in Owensboro, Kentucky is a location you can get a lot out of while still having a smaller scale events center for a charming small town team your project may feature. While the center features a complete basketball court with surrounding spectator stands, the space has transformed into a location for wrestling tournaments, WWE fighting events, concerts and even rodeo events. Qualified film projects that spend at least $250,000 in Kentucky can receive a 30% tax credit on approved expenditures, 35% of Kentucky labor and 30% of non-resident labor through the state's tax incentive program. The Owensboro Sports Center can be flexible to your needs and a great resource for many scenes and many different events, all while featuring small town living. 
Greater Nevada Field (Reno, NV)
The Greater Nevada Field in Reno, Nevada is a minor league baseball field that holds over 9,000 people. The field is in the heart of Reno, giving it the urban appeal and atmosphere for a sports project that has a focus in a bigger city. Nearby sports complexes, high school baseball fields and softball facilities can become additional shooting locations without having to leave Reno. Qualified productions with a budget of more than $500,000 with 60% of that budget spent in Nevada can receive a tax credit up to 25% on cumulative production costs. Filming at the Greater Nevada Field allows for the opportunity to get more than just your sports related content for your project. With the surrounding city, your options are vast and flexible so that you end up with the perfect production of your scenes.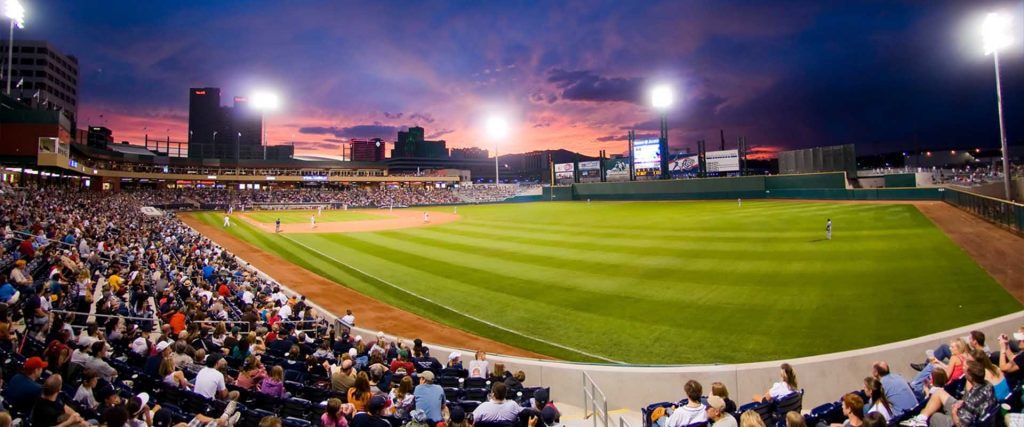 SAP Center (San Jose, CA)
The SAP Center in San Jose, California is a large indoor arena that can convert into a hockey rink, an MMA fighting event, concerts and more. The variety of the venue allows for multiple interpretations of the space and is big enough to film a high-stakes sports event for your next project. With a 17,562-person capacity, your next hockey or fighting film can be action packed and artistically made in this indoor setting. The SAP Center can be seen in multiple fighting TV show episodes like SummerSlam, Strikeforce: Evolution and WWE-Payback. Qualified independent films with a one million dollar budget minimum can receive a 25% tax credit for the first 10 million dollars of expenditures. Qualified feature films with a one million dollar budget can receive a 20% tax credit for the first 100 million dollars spent, and qualified TV productions with a one million dollar budget per episode can receive 20% in tax credits. The SAP Center can transform into the set you're looking for, whether it's a team during practice or the nail-biting last game in the tournament
Donald W. Reynolds Razorback Stadium (Fayetteville, AR)
The Donald W. Reynolds Razorback Stadium in Fayetteville, Arkansas is the home field to the University of Arkansas Razorbacks football team. The stadium holds up to 76,000 people and would be a great location for shooting a high school team's state championship game or a collegiate football game. The University of Arkansas campus is a few blocks away and could be used for scenes off the field when it comes to college- and high school-level sports films. Eligible productions that spend at least $500,000 within six months and $200,000 in post-production spending are able to participate in Arkansas's rebate program. A 20% rebate for all in-state expenditures is available with an additional 10% rebate for above-the-line and below-the-line employee salaries to Arkansas residents. There is a lot of potential at this stadium to get the shots that your football scenes need, whether it's on or off the field.