Bring out-of-this-world visuals to your next film or television project
These seven North American locations offer a variety of styles and visuals for a science fiction film project you may be working on. From interesting architecture to rocky and lush terrain, these locations may be just what you  need to make your futuristic or outer space production a reality. Many of the locations offer competitive tax and rebate incentives that will make the perfect location even better.
University of Alaska Museum of the North
The abstract design and sloping walls of the University of Alaska Museum of the North is a blend of modern architecture with an Arctic feel. The white building with large windows has a clean and stark look that would make a great addition to a science fiction film that needs a futuristic building, while still feeling subtle and not overly extravagant. This location would fit with winter or cold climate scenes that need a futuristic touch to make your science fiction plot compelling and realistic. Alaska offers tax incentives for film producers that may make the museum location accessible and realistic for future projects. Five percent of tax credits are funded to non-Alaskan film producers and leading staff. There is a 30% tax credit on qualified expenditures in Alaska and an extra 20% credit for the salaries of Alaskan residents. Additional tax credits are available based on production needs and opportunities. Alaska's film incentives allow for many opportunities to bring your science fiction film to life, and the Museum of the North may be the location where it takes place. 
Thorncrown Chapel (Arkansas)
The Thorncrown Chapel in Eureka Springs, Arkansas is a uniquely built chapel that allows for spectacular views of the Ozark Hills. The glass chapel in the woods is largely known for its serene placement (surrounded by lush forest) and also for the structure itself. The tall, nearly-all glass walls makes it feel like you're in nature while being inside. This location would be a unique way to incorporate the natural surroundings of this area. With so much interesting surrounding area, there is a lot of creative freedom to work with. The Arkansas tax incentives may make it even more worthwhile. Upon an approved application, film productions can receive up to a 20% tax rebate for production expenditures in Arkansas. Additional rebates may be applicable based on hired Arkansas residents and post-production expenses. The Thorncrown Chapel may be the perfect place to capture the beauty of Arkansas while receiving tax incentives that make it possible.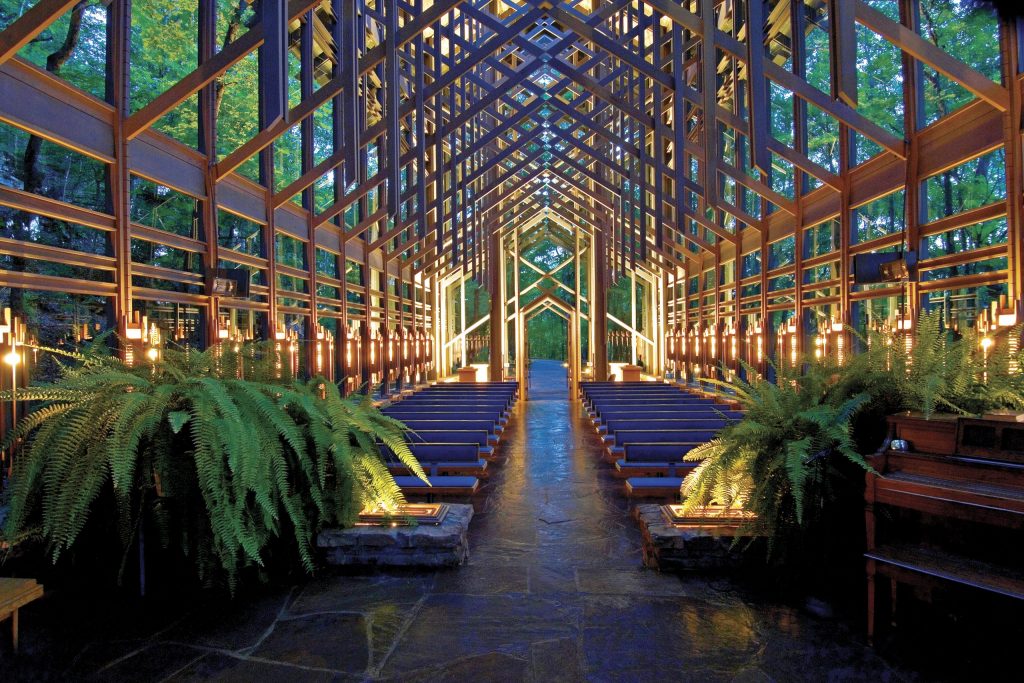 Mammoth Cave (Kentucky)
Mammoth Cave in Kentucky is a beautiful location that can be used for many different types of science fiction films. The cave provides interesting natural features, and with walkways, and tunnels, there are many ways to make this place different and captivating for your film. The natural surrounding area to the cave is another great feature that will help create a realness to the environment of your film set. A small waterfall, greenery and tall rock walls are a few of the amazing features this location provides. The Kentucky Entertainment Incentive (KEI) program has successfully expanded the state's media footprint and offers hotel occupancy tax relief. Learn more at the Kentucky Cabinet for Economic Development.  With incentives to help make your film possible, Mammoth Cave can make your film feel much more authentic than a fake cave set. It provides the opportunity to use and explore the natural wonders of the area and the ability to make it another planet if that's your goal. 
Atheneum Visitors Center (Indiana)
The Atheneum Visitors Center in New Harmony, Indiana is a modern building with sharp lines and an abstract and intricate design. The building would make a great location for a futuristic film as it looks high-tech and sophisticated. The large windows allow for different filming abilities and adds to the modern look of the entire location. The surrounding city and suburb is accessible, along with a yard in front of the Atheneum Visitors Center and the Wabash River at the edge of it. While Indiana doesn't have tax incentives for film productions, they do offer an exemption from county innkeeper's tax if staying in accommodations like hotels, motels, apartments, houses, vacation homes, resorts, etc. for 30 consecutive days or more. With the exemption, Indiana can be an affordable place to bring your science fiction film to the big screen. 
Bell Works (New Jersey)
Another futuristic and out-of-this-world location is the Bell Labs Holmdel Complex. The shape of the campus and landscape in the surrounding area looks much like headquarters for high-tech or top secret organizations portrayed in previous science fiction films. It could also pull off as a location for another planet based on the oval shape of the campus and the window lined walls. The spacious inside looks suave with the balconied levels and courtyard style on the ground floor. The opportunities are unlimited with the size and structure of this location, and it could transform into whatever you're needing it for. New Jersey offers a tax credit program that, if qualified, you can receive 30% in credit for production expenses or 35% in credit in expenses with services or purchases from businesses located in southern New Jersey counties. Additional incentives may be applicable if your production qualifies. The New Jersey film incentives are a great way to get your film on it's feet while incorporating local businesses and finding your perfect location.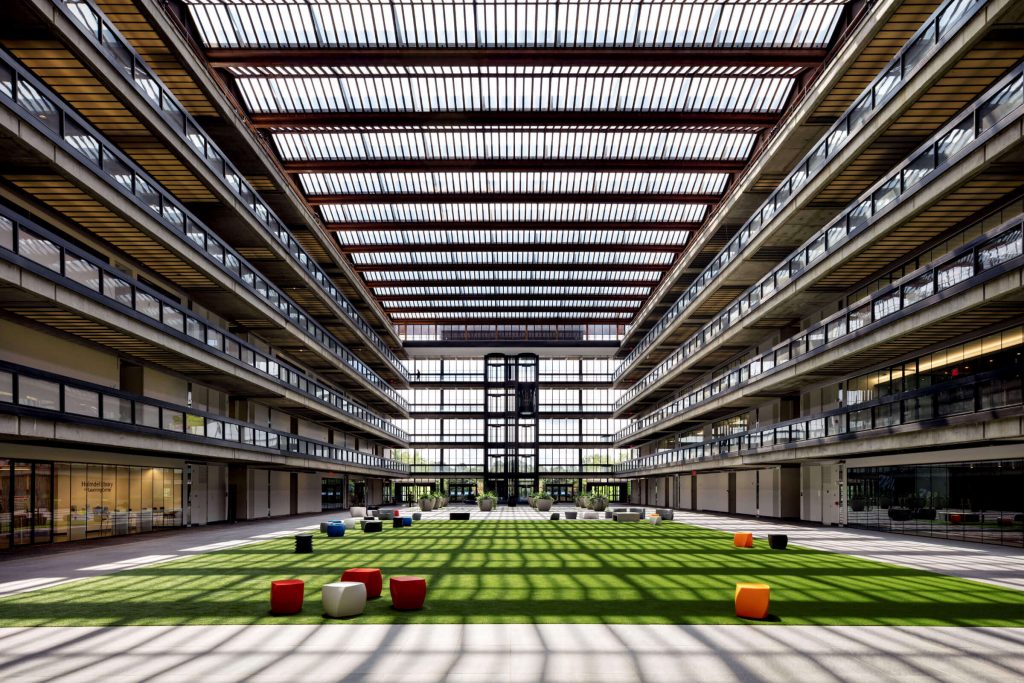 Bend (Oregon)
Bend, Oregon is another fantastic location where you can get more than just one type of scenery for your science fiction film. From impressive rock formations to winding rivers and thick forests, this city can make your film full of impressive landscapes while still having hints of an urban feel. The surrounding city can add a level of suburbia if your film needs it, or the vast natural surrounding can be the star of the show. Just outside of the city is Tumalo State Park, where you can find more rock formations along Deschutes Rivers. The tall and impressive rock walls and formations within forest settings and near rivers and lakes could be a great opportunity to make this place into what you're needing for your film. Filmmakers can receive the Greenlight Oregon Labor Rebate when spending at least $1 million on a project, and an extra 6.2% rebate on Oregon labor expenditures. The opportunities go beyond rebate incentives when the scenery and features of this location are discovered. Bend, Oregon could be the perfect location for your next project. 
Grand Junction (Colorado)
Grand Junction, Colorado is a one-stop-shop with the variety of landscapes, and the complexity of the area can make your science fiction film shine. The rock formations feel like you're walking on another planet. The lush forest areas allows versatility with shooting, and the city creates for a multitude of ideas and styles that you can pick and choose to include. There is a classic feel to this city that can heighten the authenticity to your film without having to create it in a studio. The variety of Grand Junction makes it the perfect place to film, along with some tempting tax incentives. The performance-based rebate can go up to 20% on qualified expenses, especially when hiring Colorado residents. A science fiction production could excel in this expansive location, regardless of what the plot may be.