These streetscapes are colorful and kinetic additions to your story.
Main streets are a terrific way to quickly establish the character of your setting and provide authenticity to your production. From the bustling tourist hubs of New Orleans to charming small-town Americana in southern Indiana, these main streets are terrific and industry-friendly locations for your next project.
Beale Street in Memphis is one of the most iconic streets in America. It consists of three blocks of nightclubs, bars and restaurants teeming with the sounds of blues, jazz, rock, gospel and R&B. You can discover its rich musical history through museums and clubs that still play these sounds today. Clubs and restaurants you can visit are the Rum Boogie Cafe, B.B. King's Blues Club, Silky O'Sullivan's or the Hard Rock Cafe.
For many, Bourbon Street is the embodiment of New Orleans culture. The ultimate party town, the street is filled with neon lights, spacious balconies and reverberating music. Bourbon Street dates back to 1718, when it was founded by Jean-Baptiste Le Moyne de Bienville and was named after a French royal family. Some points of interest to consider filming are the Royal Sonesta Hotel, which was built in 1969, and the luxurious Galatoire's Restaurant, one of the oldest and most popular restaurants in New Orleans. This vibrant and exciting place should be one of your next filming destinations.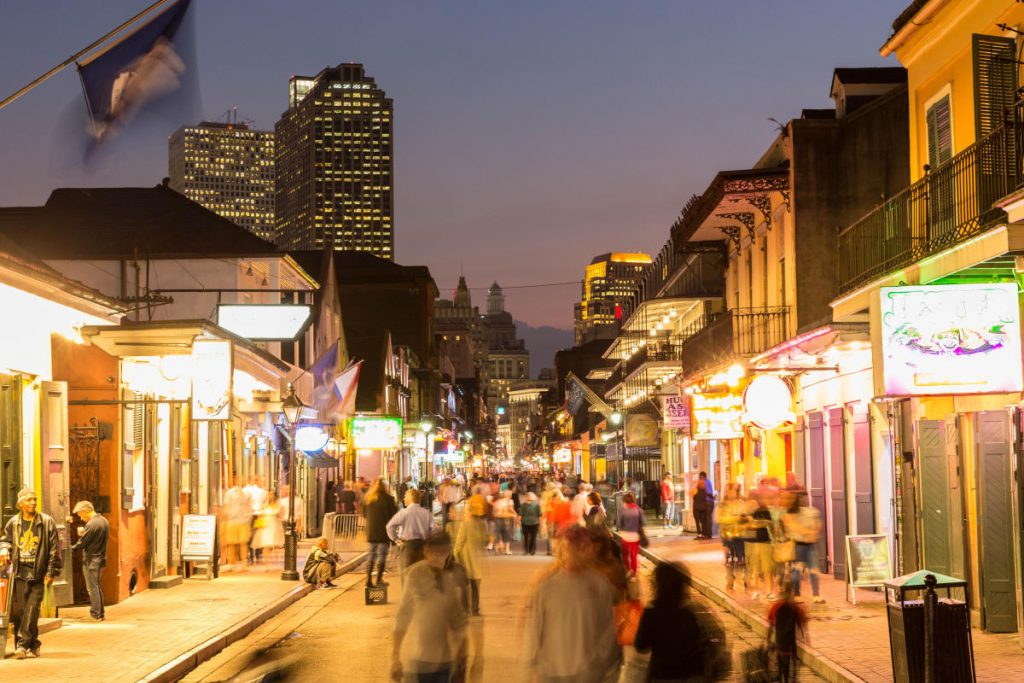 Boston's Acorn Street is considered one of the most photographed streets in America. It offers visitors a modern-day tour of colonial America. This street was where artisans and tradesmen lived during the 19th century, and it is now considered a prestigious address on Beacon Hill. Here you can potentially film a project set in colonial America or an opulent household in modern-day Boston.
Second Street in Madison, Indiana was once the filming location of 1958's Some Came Running with Frank Sinatra and Shirley MacLaine. Fictional Smitty's Bar was created and filmed here at the corner of Second and Jefferson Streets, which was where most of the film's action commenced. Also on Second Street is the Lanier Mansion Historic Home, which was used for filming scenes of the Frank Hirsch home as well as the former White Star Bus Station. Come back to this historic street to film scenes for a small town feel.
Chicago's Michigan Avenue, commonly known as the Magnificent Mile, stretches from Lake Shore Drive to the Gold Coast. This opulent and iconic street is another place to film your next project. The Magnificent Mile is the heart of downtown Chicago as well as a popular tourist destination. The street hosts one of the most popular and successful commercial districts the country has to offer. Five neighborhoods border the street, specifically Streeterville, Gold Coast, Old Town, River North and New East Side. The district consists of luxury boutiques, trendy restaurants, famous museums and beautiful architecture. Considered to be a part of the vibrant capital of the Midwest, Michigan Avenue offers cultural events and is snuggled between skyscrapers and a beautiful lakefront.
Coined the "Crookedest Street in America," Lombard Street is known as one of the most popular streets in San Francisco. Millions of tourists traverse Lombard's many sharp turns every year to experience the unique architecture and landscape. Plus, these sharp turns were actually made during the 1920s to encourage safer driving in the city. Russian Hill mansions make up the bulk of Lombard Street's beautiful landscape, making it one of the city's most scenic streets. You can catch a breathtaking view of the street in its entirety from the San Francisco Bridge, Colt Park or the Bay Bridge.
Another street with a historic and vibrant music scene is Fillmore Street in San Francisco. Fillmore Street is home to the legendary music hall simply known as The Fillmore, which continues to host performances from well-known artists to this day. During the summer, the street is transformed into a live music venue, blending together jazz and soul for the Fillmore Music Festival. The neighborhood, which is also named Fillmore, is home to some historic churches such as Bethel A.M.E. Church, First A.M.E Zion and the St. John Coltrane Orthodox Church. North Fillmore hosts a range of chic boutiques for shopping such as Alice + Olivia and Rothy's. You can also find a host of diverse food choices here, particularly California-style pizza at Pizzeria Delfina.
Miami's Calle Ocho is an epicenter of Cuban life and culture, which is a part of Miami's Little Havana neighborhood. This vibrant neighborhood is home to authentic Cuban cuisine, Cuban bakeries and festivals that help keep Calle Ocho filled with life. A must-see in Calle Ocho is Maximo Gomez Park, where you'll find locals smoking cigars and relaxing with a game of dominoes. Next, you'll see Tower Theatre, an art deco style theatre where Cuban immigrants frequented to watch Spanish films and is now home to Miami Dade College. Memorial Boulevard pays tribute to Cuban soldiers who fought in the Bay of Pigs invasion and the Cuban War for Independence. You can then go to popular destinations such as El Titan de Bronze to find cuban cigars rolled to perfection. You can also cruise around to find authentic Cuban food served at a plethora of restaurants to be found in Calle Ocho.