Transport your audience to other planets and time periods when you shoot in these beautiful water locations
Filmmakers have used the evocative landscapes of the American West for over a century for cowboy epics, science fiction thrillers and modern car chases. The contrast of arid land and soothing water is a compelling visual, and the waterside settings throughout the region can easily pass as an alien planet or contemporary vacation destination in your next project.
Glenwood Springs, CO
Glenwood Springs is home to Colorado's most beautiful hot springs. You can also participate in snow sports, Gold Medal fishing, water rafting and miles of scenic hiking trails. Glenwood Springs is considered the world's largest mineral hot springs pool, which features the award-winning Spa of the Rockies. Iron Mountain Hot Springs is another destination for filming, which is perfectly situated right along the Colorado River. Hanging Lake is considered a National Natural Landmark and is considered the most beautiful hiking trail in Colorado. The most well-known movie that was shot in Glenwood Springs was 2005's Mr. and Mrs. Smith, in which actress Angelina Jolie was filmed climbing the red cliffs in Glenwood Canyon.
Havasupai Falls, AZ
The Havasupai Tribe is a federally recognized Indian Tribe located in northwestern Arizona. For over 1,000 years in Supai, Havasupai Falls has been home to the Havasu Baaja, who are also known as the People of the Blue Green Waters. Havasupai Falls is known for its limestone aquifer, which gushes with the beautiful blue-green waters that have helped sustain the surrounding land and have allowed the Havasu Baaja to thrive for generations. The reservation is 188,077 acres of land consisting of canyons and plateaus. There are no official permits to film here, but you may have to go through the tribe's civil regulatory and civil adjudicatory jurisdiction in order to film on land. You can also contact the Arizona Film & Digital Media to be approved for filming.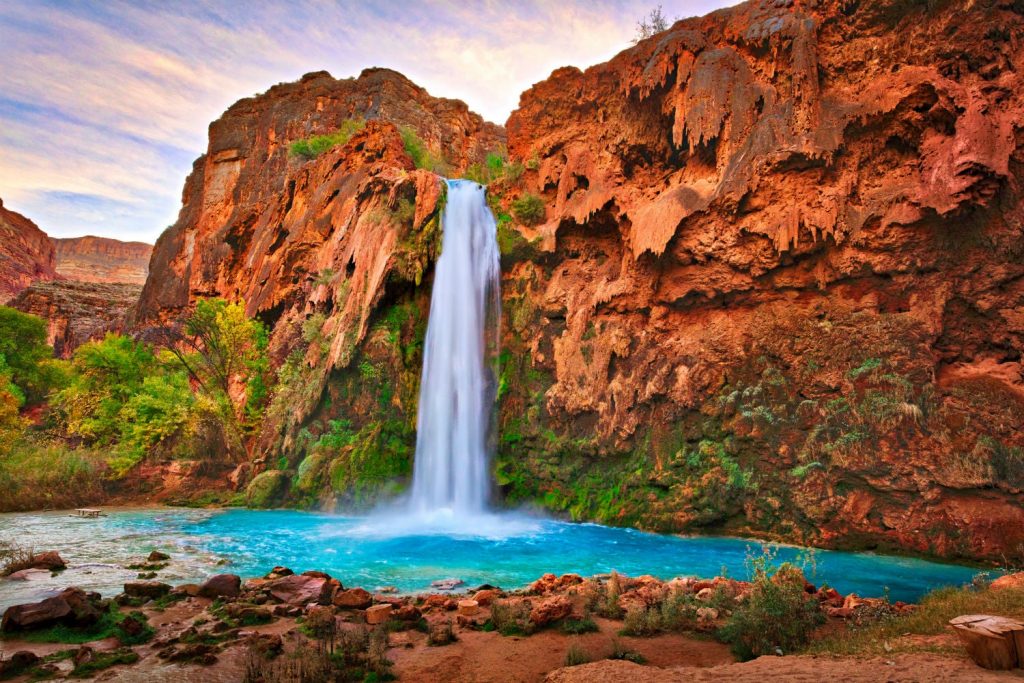 Lake Powell, UT
Lake Powell's turquoise waters and numerous canyons make it one of the the nation's premier boating destinations and a must-see for serious boaters. At the center of Lake Powell is Wahweap Bay, which is connected to the Rainbow Bridge National Monument. Other marinas that are a part of Lake Powell are Bullfrog, Antelope Point, Dangling Rope and Halls Crossing. All are accessible by water. Visitors can go kayaking on Lake Powell to experience the beauty of the marinas in their entirety. Lake Powell has hosted numerous movie shoots, ranging from 1968's Planet of the Apes to the most recent film Gravity. The UK television series Doctor Who has also filmed multiple scenes here including the Lone Rock Beach. Other films include John Carter, which transported the lake to Mars, and Dangerous Surf.
Topaz Lake, NV
Topaz Lake in Gardnerville is the perfect location for your next filming destination with its authentic rural setting and high desert lakes. It borders south of Gardnerville and offers scenic fishing shores, resorts and outdoor recreation activities. Topaz Lake is off I-95 and located near the Nevada-California border, which offers you the best of both worlds. Activities that you can do here are fishing, golfing, camping and antique hunting. According to the Nevada Film Office, Douglas County does not issue film permits, but you may seek other avenues to have your film production approved, such as the Bureau of Land Management and the United States Forest Service. Movies that have already held  productions here include, 2012 film Motel Life and the 1989 film The Wizard starring Fred Savage and Christian Slater.
Pedernales Falls State Park, TX
Pedernales Falls State Park, located in Johnson City is home to the peaceful (and at times turbulent) Pedernales River. Located 30 miles west of Austin, the Pedernales River flows over and is surrounded by limestone. At Pedernales Falls, visitors can hike, camp, mountain bike, go on a picnic and go bird watching. If one wants to swim in the river, they must consult the swimming safety guides, as the river can go from still waters to a raging torrent in a matter of seconds. In order to film in Texas, a permit is required from city, county, state and federal offices in order to proceed with filming on public property. You can go through regional film commissions as well as the Texas Film Commission's Friendly Texas Program, which provides support while filming.
Bonito Lake, NM
In New Mexico, Bonito Lake serves as a water supply and recreational area for the residents near the town of Ruidoso in southwestern New Mexico. The lake is generally open to the public from April to November and is used for recreational purposes. Located in the Sierra Blanca Mountains, Bonito Lake is often used for camping and fishing purposes. Due to the lake's year-round cold temperatures, the lake often attracts rainbow trout. The area also has several campgrounds with hiking trails and streams. For film productions, you'll have to contact the New Mexico Film Office to be permitted to film at Bonito Lake.
Zephyr Cove Beach, NV
Zephyr Cove Beach in Nevada offers numerous amenities such as lodging, cruises, snowmobiling, horseback riding, a marina and dining services. It connects to Lake Tahoe and Emerald Bay, where you can go on boat cruises to witness some of the country's most beautiful scenery. Directly from Zephyr's sandy shores, visitors can go on parasailing adventures as well as water skiing and wakeboarding behind a speedboat. You can also enjoy the gentle breezes and sunshine on its mile-long beach and become enamored by its beauty. Assassination and Welcome to 18 are among the movies that were filmed at Zephyr Cove Beach. In order to be permitted to film here, productions have to go through the Nevada Film Office to be approved for filming.